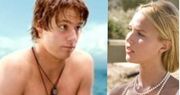 First Met: Before Aquamarine
Status: Exes, They had romantic feelings for each other; Ex-Allies, Former friends; Separated (They grew out of touch after Raymond ended their relationship/friendship.)

This is the former romantic relationship between former friends and exes: the humans Raymond and Cecilia. They originally were friends with each other before the mermaid Aquamarine came into town. But once the mermaid came into town, it became an intense war to win Raymond's heart. Cecilia originally succeeded by telling him that Aqua already had a boyfriend. They became brief boyfriend and girlfriends before Claire revealed the truth to Cecilia's foolish lie. Things for their relationship turned south until the end of the film when Raymond chose Aqua instead of her. Raymond and Cecilia are currently former friends and exes being Raymond saw her true nature when she tried to humiliate and hurt Aquamarine.
Ad blocker interference detected!
Wikia is a free-to-use site that makes money from advertising. We have a modified experience for viewers using ad blockers

Wikia is not accessible if you've made further modifications. Remove the custom ad blocker rule(s) and the page will load as expected.