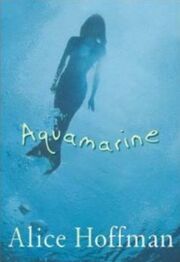 Aquamarine is the original book of this mermaid tale. Although the plot is loosely based off of this book in Aquamarine, the film, its characters are somewhat the same.
Review from www.Amazon.com: This wide-eyed, magical tale by distinguished author Alice Hoffman reflects the pale blue hue of two 12-year-old friends about to be parted at summer's end. Hailey and Claire have lived next door to each other and have been best friends all their lives, but now Claire's family is going to move away to Florida. The two hang out at the neighborhood beach club in the blistering heat, dreading the end of things. The Capri Beach Club, too, is coming to an end--neglected and shabby, due to be bulldozed at the end of the season. Despite the girls' fear of change, everything shifts with a summer storm. At the beach club the next morning, Hailey and Claire find that the storm has left its mark, filling the cloudy waters of the swimming pool with jellyfish and seaweed. Hailey boldly dives in and discovers that the waves have also brought a delicate blue and white mermaid who is extremely grouchy at her predicament. The girls scheme to return the fish-woman to the sea, but she obstinately refuses to leave the vicinity of Raymond, the handsome boy who runs the gift shop. Alarmed at the mermaid's growing weakness, Hailey and Claire extract her promise to go back to the sea in exchange for one evening with Raymond. They set up a blind date, dress her in a long blue dress to hide her tail, and take her to the rendezvous in a wheelchair. But the next morning the dying mermaid is in love, and the patio is full of partygoers. Can the girls sneak her past all those eyes to save her life? And will she let them? Young teens will be entranced by the strange dreaminess of this poignant little story about love and loss. (Ages 10 to 14) --Patty Campbell --This text refers to an out of print or unavailable edition of this title.
Ad blocker interference detected!
Wikia is a free-to-use site that makes money from advertising. We have a modified experience for viewers using ad blockers

Wikia is not accessible if you've made further modifications. Remove the custom ad blocker rule(s) and the page will load as expected.